Magic The Gathering. The greatest game
Magic The Gathering is the greatest game.

Magic The Gathering all started for me in 1995. I was thirteen years old. At this point in my life, my spare time outside of school was filled with basketball and roller hockey. But even then, I would convince my mom to drive me to the local comic book shop. I dreamt of comics and collecting the books.
When my parents divorced, money was tight.  But my best friend Justin's parents would often take us to the same comic shop, Collectors Assylum in Agoura Hills.
In 1995, Justin and I were at the shop. We noticed Magic card singles behind the glass display. There were people sitting across from each other playing a card game. In that split second, I had no idea that I would be hooked on Magic.
We convinced Justin's mom to buy us each a Revised Starter pack.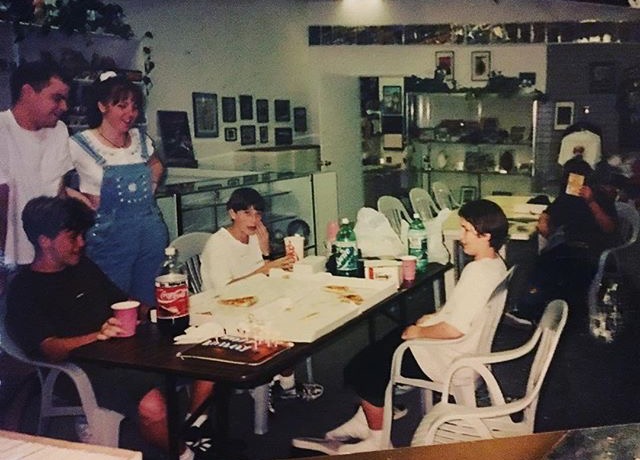 We opened the decks and pretended like we knew how to play.  The decks were built around both a craw wurm and Mahamotti Djinn always winning. I got my first DCI card in the summer of 1996.  Then.. finally, I had an understanding of the magic mechanics.  That summer, I got an Icy Manipulator and a Forcefield.
I was the happiest kid.
Then Magic The Gathering went to hibernation for me during college. I stored all my cards and painted Warhammer figures at mu moms during college years. I took a 10 year break from the game. I would always daydream about playing
again.
In 2006, I started making good money and began buying singles off of Ebay. I would buy 5-10 cards a month, mainly Beta staples and cards I always wanted when I was younger.
Through Facebook I joined a Los Angeles magic group and began playing at UCLA on the weekends. I would rarely win… Mainly because I would create my own decks. I didn't download them. I was never interested in the new prints or new formats.
I always wanted to play the at the time vintage, now known as old school.

In 2017, I sent a private message to alpha_lotus (clenet). Clenet and I decided to meet up and play. Ironically we both liked to play with old school magic. After only a couple of meet ups, we both headed up to Magic Grand Prix Santa Clara.
At GP Magic 2017, I first caught wind of a format called old school. And I met Jason Murray.
Old school Magic in my life

Having personally collecting older cards for many years and then finding out there is a format where these cards can actually be played was life changing.
And just recently, Clenet took me to the 2018 Deep Spawners Memorial Day Event. I met a group of friends and good players and I did really well at the gathering.
But most importantly I had a great time. I looked up to the people I met at the event and knew I was hooked on Old School MTG.
As of today, I plan on playing forever, and enjoy every match and every game I get to play.
-Nick A